UAE offers a well-planned public transit system. However, it is also a car lover's paradise for those who can afford personal vehicles. High-speed limits, smooth roads, and well-chalked traffic rules make it a favorable place for driving your latest luxury model in style. Off-road adventurists must not miss the desert dunes.
With that said, it can also be overwhelming for ex-pats to buy their first car in the UAE. There is a wide range of new and used vehicle models to choose from, and you must know the requirements to buy a car to avoid any trouble from the law.
When you know the documents for buying a car, you are also well-prepared and can plan in a much better way for this significant purchase in life.
Buying a Car in UAE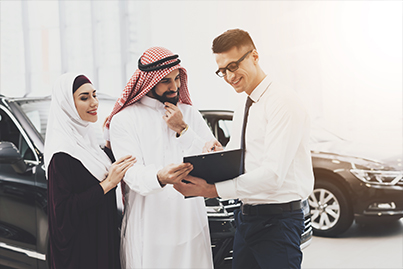 Buying a car in UAE is not a very tedious process, thanks to the availability of most administrative procedures online. People also enjoy higher tax-free salaries, allowing them to choose luxurious vehicles with ease.
UAE has an active online marketplace to purchase new or used cars. There are several dealerships that are commonplace in the seven emirates where you can get the right advice. Jaftim offers the best used SUV online in UAE.
Anyone purchasing a car in UAE must be aware of the cost and procedures according to their emirate, as there are slight differences. You must register the car in the emirate that corresponds to your issued visa.
Every emirate has a different registration process and number plate. If you are purchasing a car that is three years or older, you are required to pass an inspection before registration.
Documents Needed to Buy a Car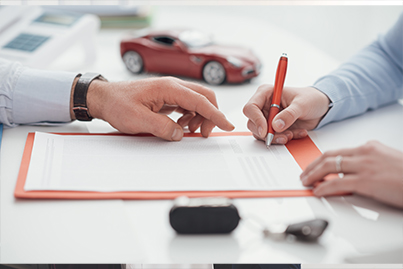 Anyone who is over 18 and holds a valid driving license can buy a car in the UAE. Following are the documents for buying a car:
Your original passport
Your UAE residence visa which is a mandatory document for purchasing a vehicle as well as opening a bank account
Your UAE resident ID is also known as Emirates ID. It is an essential document for everyone living and working in the UAE
Your UAE driving license, licenses from several European countries and GCC countries are considered valid to drive in the UAE
Insurance documents, before you can drive your car, it is mandatory to have it insured
If you're buying a car in UAE on a finance or bank loan, then you also need to show your salary certificate or employer's letter. You should also keep your bank statements handy for the past 3 to 6 months.
Also, make sure to keep copies as well of all the documents.
Buying a Used Car in UAE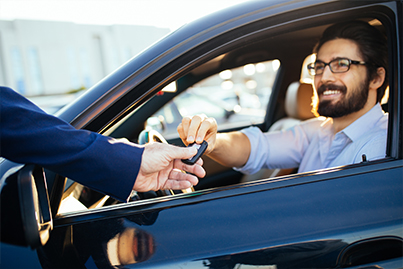 If you are buying a used car model in UAE, the requirements to buy a car are slightly different. You will need your UAE residence visa, passport, Emirates ID, valid driving license, and a car insurance agreement copy.
However, you will also have to provide the previous registration card for the vehicle and an inspection certificate from an authorized Vehicle Testing Centre.
If you have all your documents to buy a car in order, it shouldn't be a problem cruising down UAE's roads in your new vehicle in no time.
Car Registration Process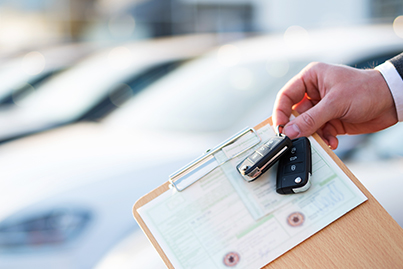 When you purchase a new vehicle, the registration process remains the same for a new or used car. Your car must be registered in the emirate of your residence. Cars are registered annually, and you can follow the below steps to register your new car in the UAE:
If you have purchased a vehicle at least three years old, you should get it inspected by an authorized vehicle inspection center
Have your car insurance and policy documents ready
Make sure any outstanding traffic fines are paid
You can visit a registration center to register your car. You can also do it online through the Ministry of Interior website, the RTA website, which is for Dubai residents, the Emirates Vehicle Gate website, or the Abu Dhabi Police website for Abu Dhabi residents
Pay the registration fee for the vehicle. For Dubai residents, it is around AED 420, while for Abu Dhabi residents, it is AED 400
Gather the registration papers for the relevant emirate
In case of a new car, collect a new registration plate. Used car owners receive a transferred registration. Your number plate will have a registration expiry sticker.
Owning a vehicle in the UAE comes with ownership costs that you should be aware of before making the purchase. For instance, you have to purchase insurance depending on the vehicle type.
You can look for the best insurance quotes as there are many insurance companies operating in the UAE. For a vehicle around AED 70,000, you can expect a well-covered insurance policy to cost around AED 3,000 and AED 4,000.
Other costs to be aware of include maintenance, road tolls, petrol costs, and off-roading equipment, which is a popular activity in the region. Driving a car in the UAE also means that it must comply with legalities.
Some important things to keep in mind in this regard include the following:
The number plate of the emirate of your residence
Registration expiry date sticker
Valid UAE driving license
Car insurance policy
Car safety safe for children 4 years and younger
End Note
Buying a vehicle in the UAE is a straightforward process only if you are well aware of the requirements to buy a car. You can purchase a used car in UAE with convenience and ease from Jaftim, which has a strong foothold in the market and a visible presence. Moreover, you can search for a vehicle of your choice by car make or body type. Make sure you have the complete documents to enjoy a hassle-free purchase process.